Carrowmena Activity Centre
16th May 2016
On Wednesday 11th May 2016 fourteen children set off on our annual residential trip to Carrowmena Activity Centre. As it was a new venue for the children, there were many excited expectations over the days that were to follow. The children had a ball trying out the many activities that were on offer at the centre. On Wednesday after lunch the children got ready to take a canoe trip down the River Roe, learning to navigate the boat through the water and even getting the chance to take a dip and swim in the beautiful sunshine. All children returned to the centre buzzing and hungry, ready for the activities to follow that evening when Mini Olympics and a table Quiz took place.
The next Morning the children woke up excited for the day ahead. In the morning the children were split into groups and they were asked to work together during team game activities, followed by orienteering. After lunch we all got kitted up and we set of to the Roe Valley Country Park where the children rock climbed and abseiled down a cliff edge. All children had a go at something and they had a real buzz that they had tried something new. After dinner that evening we took a long walk to Lough Foyle's sea edge and the children enjoyed splashing in the water and looking for shells. On returning to the centre Stephen our leader, had set up a camp fire and we all roasted marshmallows over the fire and told stories about our trip. That night all children, feeling tired and happy, headed to bed excited about our last day to come.
Friday morning another beautiful day and the children couldn't wait for crate stack and tri stack. In crate stack the children had to build crates below them as high as they possibly could until they couldn't keep their balance anymore and the whole thing collapsed. All the children had to work as a team either lifting crates up to the children on top or holding the rope that kept them safe. The tri stack was a challenge of three layers in the high rope course where they had to complete an activity then climb up to the next activity until they got to the top were they had to jump off and they were lowered to the ground.
All children had a ball and said they wished they could have stayed longer!
Thank you to the Carrowmena staff for a wonderful trip!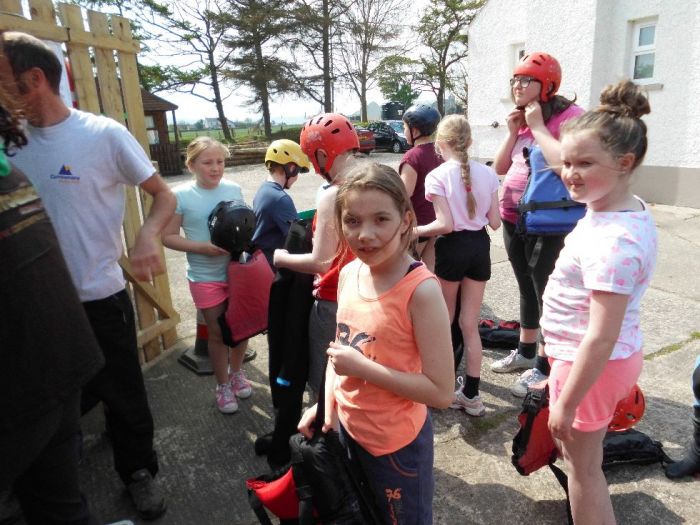 Archive
Bushmills Primary School, 5 Priestland Rd, Bushmills, County Antrim BT57 8QW | Phone: 028 2073 1416